Acceptable viscosity
Up to 3000 cP
Compressor with
5HP or higher
Industrial wet and dry Vacuum Cleaner for pail cans [AVC-550SUS-i]
Standard
For SUS Can only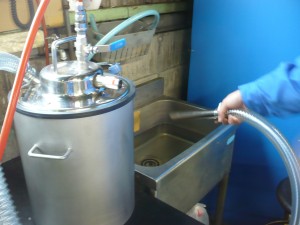 PNEUMATIC VACUUM CLEANER / INDUSTRIAL VACUUM CLEANER / PAIL VACUUM CLEANER
Industrial wet and dry Vacuum Cleaner for pail cans (for collecting cutting liquid, sludge and even cutting chips!)
Model AVC-550SUS-i is suitable for collecting fluids, water, dust and small metal parts. Outstandingly easy to use. Equipped with
PVC hose. Provided with a narrow nozzle, oil stopper and two filters.
Stainless can(SUS can) is needed, and sold separately.(option)
Powerful suction! Explosion proof!
Use it with a 5 HP compressor to unleash the cleaner's maximum potential.
Copes with fluids of viscosity up to 3000 cP!
Cutting liquid from oil pans, cutting chips, sludge, drainage… no problem!
Energy-efficient and easy to clean.
No worries about fluid overflow – oil stopper inluded.
The cleaner does not utilize electricity and can be used safely in hazardous areas.
Safer and cheaper than a regular, electric vacuum cleaner (in the same class).
Stainless can(SUS can) is option.
Specifications Table
Specifications at 5kg / ㎠
Oil-proof hose
φ32 x 2m
Aluminium nozzle
φ32 x 30cm
Air consumption amount
450 / min
Vacuum degree
2,000mm / H2O
Air suction amount
0.08㎥ / min
Application
Oil stopper
Included
Filter
Option
Option
Can, Carrier, "T" type nozzle, Filter set