Acceptable viscosity
Up to 3000 cP
Compressor with
5HP or higher
Standard
For a Open Can only
Model APPQO550-i is suitable for collecting fluids, dust and small metal parts. Outstandingly easy to use. Equipped with an elastic PVC hose. Provided with two type nozzle, oil stopper and filters.
Utilizes open 18 liter cans or 200 liter can in accordance with Japanese Industrial Standard.
Pail can is included.
Use it with a 5 HP compressor to unleash the cleaner's maximum potential.
Irreplacable, when a large amount of wastes need to be collected.
Copes with fluids of viscosity up to 3000 cP!
Cutting liquid from oil pans, cutting chips, sludge, drainage… no problem!
Energy-efficient and easy to clean.
No worries about fluid overflow – oil stopper inluded.
The cleaner does not utilize electricity and can be used safely in hazardous areas.
Safer and cheaper than a regular, electric vacuum cleaner (in the same class).
T-Shaped nozzle (for collecting dust) is optionally available.
Mechanism of Suction
Supply the air compressed at 0.4~0.6Mpa.
Compressed air goes out through the ejector with high speed.
The air inside tank is discharged by the vacuum force made by ejector.
The pressure inside the tank becomes minus pressure.
Dust or liquid can be sucked through a nozzle.
When the tank becomes full of liquid, the float ball shuts the spout of sucking air. Then, cleaner stops working.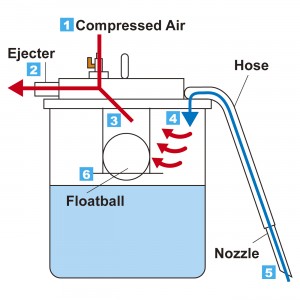 You can change 200L drum can type.
Produce number:APPQO550D-SET-i.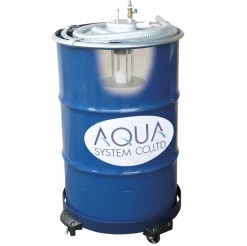 Specifications Table
Specifications at 5kg / ㎠
Oil-proof hose
φ32 x 2m
Aluminium nozzle
φ32 x 30cm
Air consumption amount
450 / min
Vacuum degree
2,000mm / H2O
Air suction amount
0.08㎥ / min
Application
Oil stopper
Included
Filter
Included
Option
Can, Carrier, "T" type nozzle, Filter set