Electric pump for transfer oil.
Acceptable viscosity
Up to 2500 cP
Discharging capacity
15L/min.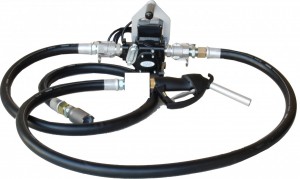 Feature and Application:
Easy to transfer kerosene, diesel oil and high viscosity oil (Up to 2,500cP).
Japan quality electric pump used for power plants, manufacturing factories, oil refineries, etc.
To transfer high viscosity oil from drum to another tank.
Durable product necessary for general factories.
Auto stop nozzle and flow meter are prepared for various applications.
To connect pump body and hose by coupling.
To be a handy pump tool for factory working.
Curved Line for Performance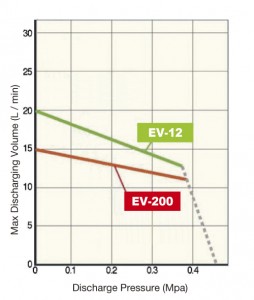 Specifications Table
| | | | | | | |
| --- | --- | --- | --- | --- | --- | --- |
| Types | EVP-56-i | EVPH-56-i | EVPD-56-i | EV-12-i | EVH-12-i | EVD-12-i |
| Max pressure (Mpa) | 0.21 | 0.21 | 0.21 | 0.45 | 0.45 | 0.45 |
| Discharge Volume (cc) (ISO32oil) | 58L / min | 58L / min | 58L / min | 15L / min | 15L / min | 15L / min |
| Discharge head (m) | 10 | 10 | 10 | 30 | 30 | 30 |
| Connection Size | In:Rc1, Out:Rc1 | In:Rc1, Out:Rc1 | In:Rc1, Out:Rc1 | In:Rc1, Out:Rc 3/4 | In:Rc1, Out:Rc 3/4 | In:Rc1, Out:Rc 3/4 |
| Motor (HP) | 1 / 2 | 1 / 2 | 1 / 2 | 3 / 4 | 3 / 4 | 3 / 4 |
| Electricity (V / A) | AC230V Single / 3.9A | AC230V Single / 3.9A | AC230V Single / 3.9A | DC12V / 35A | DC12V / 35A | DC12V / 35A |
| Weight (kg) | 7.4 | 12.2 | 12.2 | 14.2 | 19.0 | 19.0 |
| Max Viscosity (cP) | 2500 | 2500 | 2500 | 2500 | 2500 | 2500 |
| Option | — | hose set | Drum set | — | Hose set | Drum set |