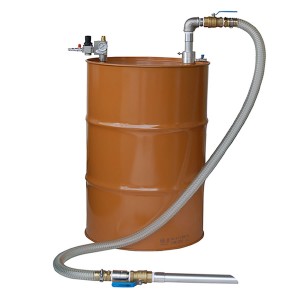 Separate Air Pressure Pump
Sanitary type as a very high hygienic standard, you can easily wash it after use.
APDS series pumps do not require electric power, and work by pneumatic simple mechanism.
This pimp is very safe and durable.
It is set at the 2″ inlet of drum can easily.
Model APDS-32 is transfer different kinds of oil, like engine oil, lubricants or machine oil.
And It is the most suitable model for high viscosity oil (4000cP max recommended).
Outstandingly easy to use. Equipped with an elastic PVC hose. 
As below, details picture of product.
Specificaations Table:
Model
APDS-32-i
Accecptable liquid
3m
Max. viscosity
4000cP
Materials
Body, Nozzle
AL
Packing
NBR
Hose
PVC  (2m*D38)
Max. Delivery Rate
1cP
131L/min
1000cP
47L/min
4000cP
9L/min
Compressor
Higher than 1HP
Weight
9.7kg