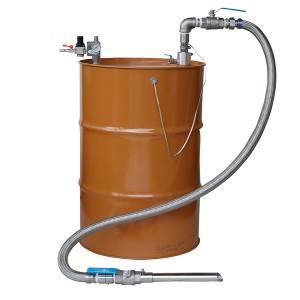 Separate Air Pressure Pump
Sanitary type as a very high hygienic standard, you can easily wash it after use.
APDS series pumps do not require electric power, and work by pneumatic simple mechanism.
This pimp is very safe and durable.
It is set at the 2″ inlet of drum can easily.
Model APDS-25(32)SUS-i is transfer different kinds of oil, like engine oil, lubricants or machine oil.
And It is the most suitable model for high viscosity oil (4000cP max recommended).
Outstandingly easy to use. Equipped with an elastic PVC hose. 
As below, details picture of product.

Fluid delivery (dispensation) mechanism:
Air (0.1~1 MPa) is let in.
Through the regulator, the compression is set to 0.05.
The compressed air enters the tank.
The pressure inside the tank rises, pushing the surface of the liquid.
The pushed liquid enters the suction pipe.
The liquid enters the delivery hose and leaves the system through a gun nozzle.
We have many kind of relation Separate Air Pressure .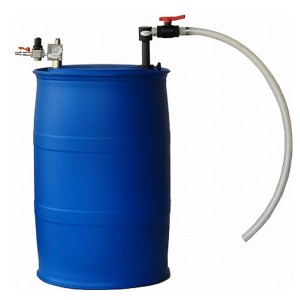 Model number:
APDS-25PP-i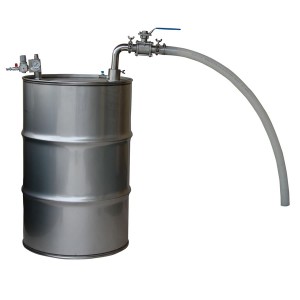 Model number:
APDS-1S(1.5S)-i . 
PP Hose
Technical specifications:
Model

APDS-25(32)SUS-i

Function

Delivery

Usable Fluid

Acids, Alkalis, Solvents

Pressure Regulator's Material

SUS, Teflon, Viton, Perfluorocarbon

Dispensation Parts

Main Body, Nozzle

SUS

Seal

Teflon, Perfluoro

Hose

SUS (ø32 x 2 m)

Max delivery rate l/min

1 cP

70(130)

500 cP

37(70)

1000 cP

24(49)

3000 cP

8(15)

4000 cP

5(10)

Fluid Uplift (water)

3 m max

Delivery/Collection Pressure

Delivery: 0.05 Mpa