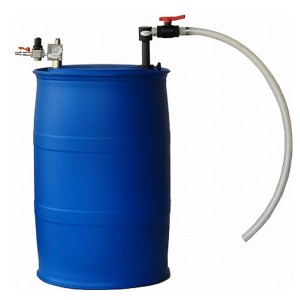 DRUM PUMP / AIR-OPERATED PUMP / PNEUMATIC PUMP / CHEMICAL PUMP
Separate Air Pressure Pump for Drum Can (for fluids delivery/dispensation)
Model: APDS-25PPEX for chemicals (solvents, acids, alkalis, etc.)
Compressed air operated pump – no electricity is required. Drum can types utilized by this pump, are in accordance with Japanese Industrial Standard (JIS) and international standards, closed drum cans with two inlets, smaller one: Ø3/4" (ca. 20 mm), and bigger one: Ø2" (ca. 50 mm). Drum can is not included.
WARNING! This model is made mostly from PP (polypropylene). It can be used for transfer of chemicals, however, there might be fluids, that are incompatible with this pump. Make sure you have checked the fluid compatibility before using the pump.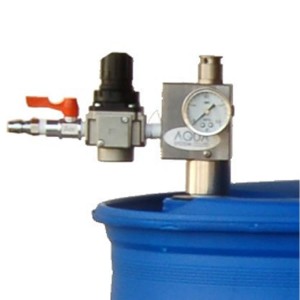 High delivery rate! Explosion proof!

In comparison to a standard APD model, the flow path is larger, and the dispensation flow rate is doubled. The pump does not utilize electricity – can be safely used in hazardous areas.
Disassembly and cleaning is easy! High reliability!
The parts of the pump, which have contact with the fluid, are very simple. It guarantees long life and high reliability of the pump. You can clean the device easily after disconnecting the pipe/hose.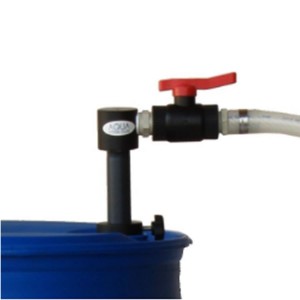 Fluid delivery (dispensation) mechanism:
Air (0.1~1 MPa) is let in
Using the regulator, the compression is set to 0.05
The compressed air enters the tank
The pressure inside the tank rises, pushing the surface of the fluid
The pushed fluid enters the suction pipe
The fluid enters the delivery hose and leaves the system through a gun nozzle.
Technical specifications:
Model

APDS-25PP-i

Function

Delivery

Permitted Fluids

Solvents, Acids, Alkalis

Pressure Regulator's Material

SUS, Teflon, Viton, Perfluoro

Dispensation Parts

Main Body, Nozzle

Polypropylene

Seal

Teflon, Perfluoro

Hose

PP Hose (ø32 x 1.2 m)

Max delivery rate l/min

1 cP

78

100 cP

66

500 cP

24

1000 cP

19

3000 cP

6

4000 cP

4

Fluid Uplift (water)

3 m max

Delivery/Collection Pressure

Delivery: 0.05 Mpa (water)