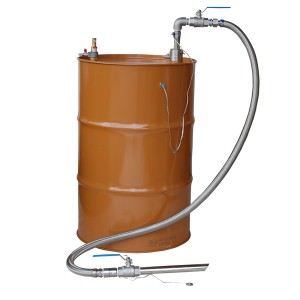 DRUM PUMP / CHEMICAL PUMP / PNEUMATIC PUMP
Industrial Separate Pneumatic Vacuum Pump for Drum Cans (for collecting solvents, acids, alkalies into drum cans)
Model APDQS-25(32)SUS-i is used for collecting solvents, acids and alkalies into drum cans.
It is a compressed air operated pump.
Drum can is not included.
Drum can types utilized by this pump, are in accordance with Japanese Industrial Standard (JIS) and international standards, closed drum can with 2 inlets, smaller one: Ø3/4" (approx. 20 mm); bigger one: 2" (approx. 50 mm).
High suction rate! Explosion proof!

This model copes well with high viscosity fluids (4000 cP as a recommended max), thanks to its outstanding suction capabilities. Also, the flow path is much larger – you can easily and quickly fill a whole drum can. The pump does not utilize electricity and can be safely used in hazardous areas. A ground wire is included for protection from static electricity.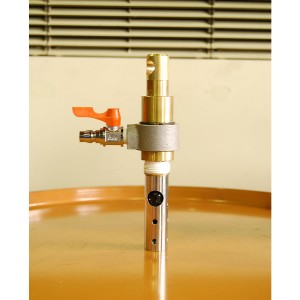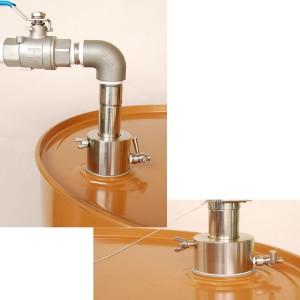 Disassembly and cleaning is easy! High reliability!
The parts of the pump, which have contact with the fluid, are very simple. It guarantees long life and high reliability of the pump. You can disassemble and clean the device effortlessly, in no time! This is a separate type: the delivery part is supposed to be connected to the larger inlet of the drum can, while the compressor part should be connected to the other, smaller inlet.
Suction/collection mechanism:
Air (0.4~0.6 MPa) is let in.
Instead of entering the tank, the air leaves the system through the ejector.
Negative pressure occurs in the ejector, the air is sucked out of the tank.
Negative pressure occurs in the tank, suction begins.
The fluid is being sucked through the nozzle.
The fluid fills the tank full. A float ball blocks the outlet. Suction stops
Technical specifications:
Model

APDQS-25(32)SUS-i

  

Function

Suction

Usable Fluid

Acids, Alkalis, Solvents

Pressure Regulator's Material

SUS, brass, Teflon, aluminum

Wetted Parts

Main Body, Nozzle

SUS

Seal

Teflon, Perfluoro

Hose

SUS (ø25(32) x 2 m)

Max suction rate l/min

1 cP

68(139)

500 cP

43(93)

1000 cP

22(65)

3000 cP

7(20)

4000 cP

5(12)

Fluid Uplift (water)

3 m max

Delivery/Collection Pressure

Suction: 0.04 MPa (water)